BRUSHOFF Tool
From the makers of the World Famous
Sensor Swabs


The BRUSHOFF tool works on any size or type of sensor.
complete with grounding wire and cap
$54.11 ORDER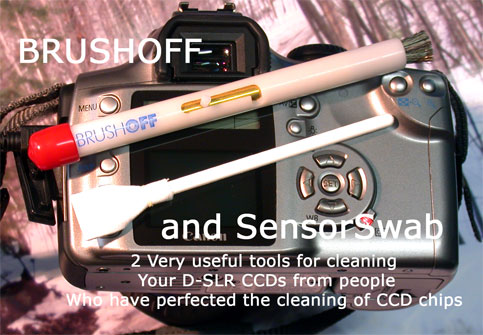 Which is better?

The Canon camera in the above picture had not been cleaned with any swab or brush method for two years. The camera had captured 7600 images with many a lens change. The the dust in the sky problems had been maintained by only the use of the Giottos rocket-air blower. we now had a spot that could not be blown away.

Having just received the BRUSHOFF tool at 2filter.com we had the perfect dirty CMOS sensor to test it on. The BRUSHOFF tool was very easy to use and worked perfect removing the dust. The image sensor after using the BRUSHOFF tool still had a smudge that the BRUSHOFF just would not remove. The Sensor Swab method with the Eclipse cleaner was then applied and the result...back to blue skies clear of smudges.

Our conclusion, the BRUSHOFF will keep you up and running if dust is the problem. After 2+ years of use without ever touching the CMOS our camera needed the extra benefits of the Eclipse fluid and Sensor Swabs over just the BRUSHOFF tool.

Eclipse, Pec*Pads Brushoff maintenance supplies

call us 1-800-882-2832 hours


Home | Full Catalog | Tiffen | Cokin | Lee filters | contact us |
Digital Camera Cleaning Tools | Clear filters, Digital Low Profile Polarizers Choices | View


©2008 2filter.com November 15, 2007